Taking your employees on the
Electric Vehicle journey
At Car Benefit Solutions we strive to ensure your car benefit provision works for your business and your employees.
With this in mind, we are proud to announce to launch our new enhancement: salary sacrifice.
What is the salary sacrifice enhancement?
The enhancement is your new way to encourage your employees to drive electric, register additional electric vehicle (EV) units and generate a used car pipeline of prime EV stock.

The salary sacrifice enhancement allows your employees to agree to a reduction in gross pay in return for a non-cash benefit. Available across vehicles with under 75g/km of CO2, employees are able to make savings on income tax and National Insurance Contributions (NICs) on the salary they've exchanged – meaning their new EV might be cheaper than they imagined. Additionally, as their employer you'll save too, due to their reduced gross earnings creating less Class 1 NIC.
Encourages EV uptake and sales
Enhances benefits for recruitment and retention of employees
Improved access to EV products
No deposit or credit checks*
*Need to use normal compliance statement.
**Employee insurance must either be included on the CBS quotation, provided by Lloyd Latchford, or provided by their employer via a fleet insurance policy.
Unlike your other CBS car schemes where the vehicle is sold to the employee via a Credit Sale Agreement (CSA), the salary sacrifice enhancement operates as a contract hire arrangement between you and CBS. You are then able collect a contribution from your employee from their gross pay to cover the B2B costs between the business and CBS.

Given that there is no transfer in ownership, salary sacrifice vehicles are liable to the associated Benefit-in-Kind (BIK) costs of a company car. However, with zero emission EVs currently holding a BIK rate of 2%*** and other hybrid EVs holding a low BIK rate, salary sacrifice is able to create business and employee savings.
***Based on 2022/23 BIK rates.
Benefits of a Salary Sacrifrice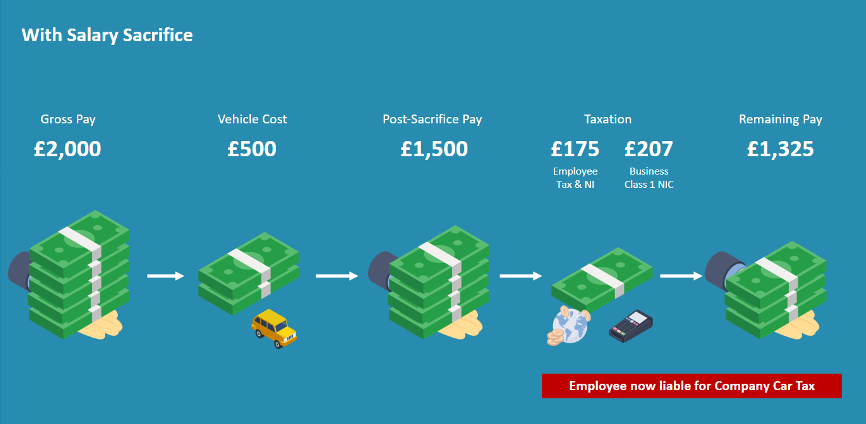 Authorised and regulated by the Financial Conduct Authority
Car Benefit Solutions, The Barracks, 400 Bolton Road, Bury,
Lancashire, BL8 2DA
© Car Benefit Solutions 2022